I love my job…there you have it, I've said I out loud, I love my job! I get to play with HubSpot all day, onboarding people to the platform. I'm like a "pig in mud!" I get to see it work its magic in all different types of organisations, big, small, not-for-profits, service-based or product companies. You name it, we've done it.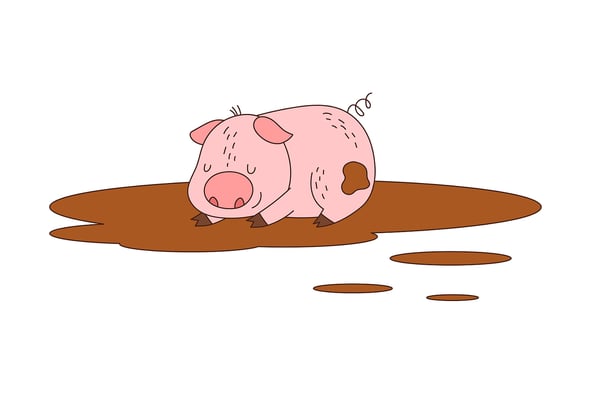 But making the "HubSpot magic" happen actually takes a lot of practice and along the way I've learnt a lot about what does and (frankly speaking) what doesn't work. Here is our 10 step approach.
Digital Transformation is not Digital Automation
Here's the thing, Digital Transformation is not Digital Automation. Simply installing HubSpot, doing a couple of hours of online video tutorials, is NOT going to deliver your best outcome. Of course, it will work…but it won't purr like a finely tuned machine – the team will like it, but perhaps won't be passionately in love with it!  I love watching people bloom, like a water lily unfold in the sunshine, as they see what HubSpot can do for them in their daily working lives. As we all know the hard work of digital transformation is getting people to change as I discussed in a previous blog. That's the bit I love best!
True digital transformation means walking in your customer's shoes, understanding:
how customers first learn about what you do and how it solves their biggest challenge
how they want to buy from you 
how they want to experience being a customer of yours 
… and matching that with the way your marketing, sales and service people work with your prospects and customers and, of course, defining what those internal processes look like. Then and only then, configure your HubSpot instance to follow that redefined way of working.
Sounds daunting? Here's the 10-step approach we like to take and what we think works best:
Map the customer's journey from complete stranger to loyal customer and advocate (don't know? You may have to do some research with customers, or at least ask your sales and service teams for their input).
Map your corresponding seller's journey i.e. how you market, sell and service them.
Analyse what's most important to customers and how satisfied they are wth your capabilities . What's your organisations biggest gap to goal?
Use this to work out what to prioritise first (hint: it's almost always the CRM people!).
Don't try to do everything at once. Look for quick wins and then medium or long term transformations. The team want to see a quick win. Get them to see their WIFM!
Find internal champions, recruit them to your cause. Ask them to present to the team about why they are excited. Identify your doubters, (you all know who they are!) work to change their mind, you want them to become supporters, promoters not detractors, that negative energy can be very destructive in a transformation project.
Appoint a core implementation team. Keep it small. Meet formally weekly, at least. Consider carefully who needs to be involved. Marketing, sales, service, IT, senior management sponsor are all possible candidates, (but remember less is better).
Document who will need to be trained on what processes and which HubSpot tools.
Transformation style training is a long haul, it will be ongoing, plan for initial training, reinforcement training, reminder training. Gamify the training, make it fun, run competitions, award prizes. (

See how we use microlearning and gamification in our HubSpot Onboarding

).
Know you will NOT get everything right first time, plan a formal review at 3, 6 and 12  months (we call them Portal Audits). Be prepared to be humble, acknowledge and learn from your mistakes and rework any processes that aren't working or parts of the HubSpot tool that isn't being used or used well.   
I've been a long-time user of HubSpot as Head Of Growth within different organisations. Now, I now get to learn about other businesses and their processes and help them with their HubSpot implementation. No wonder I'm having so much fun!
When we get asked to help, we'll hold your hand, we are with you all the way. You get to learn from our experiences, use our templates and tools for planning this implementation out the right way, and of course we'll get the team trained up whether they're a power user or an occasional user…and we'll have some fun along the way.
Come and join me in the pig pen! It's fun in here!
If you want to discuss your plans we'd be happy to chat.  Book a time here.